Mal Pais Travel Info
Do you want to know the best places in Costa Rica to visit? With so many options to choose from – surfing, beaches, nature preserves, volcanoes, snorkeling, and fishing – it all depends on what you want to do. If you are asking questions like, What is the best place in Costa Rica to visit? What about the best beach? The best surf spot? then perhaps we can help you whittle the questions down so you can get the best answers. Rather than asking what is the best place to visit in Costa Rica, or the best cities to visit in Costa Rica, why not ask, 'Where is the best surfing in Costa Rica?' or 'What is the best time of year to visit Costa Rica?' Of course, it all depends on what you want to do, but with specific questions like these, we can get down to some answers:
What is the best time to visit Costa Rica?
The busy season for Costa Rican tourism varies is generally from late November until April. This coincides with the Costa Rican dry season. The 'green season' refers to the rainy season from May through Mid-November, and though this is a slower time of year, it can still provide for a wonderful experience. Rivers run higher and the rainforests become just a little more beautiful. Most places in Costa Rica receive their rain like clock-work near the same time on most days during this season, so planning events is very possible.
What is the best area to visit in Costa Rica?
This all depends on you and what you want to do! If you're looking for gorgeous beaches and desire to spend time lying in the sun, walking the beach or swimming aquamarine-colored waters, the northern province of Guanacaste on the Pacific coast makes a good choice. Of course, we highly recommend Mal País on the Nicoya Peninsula. With rocky coves, white sand beaches, waterfalls, rainforests, surfing, and relaxation near a remote fishing village and Cabo Blanco National Park, the area offers something for everyone. The prime attraction is surfing at beaches like Playa Mar Azul, Playa Santa Teresa, Playa Manzanillo, and Playa Carmen. Plus there is fishing, boating, snorkeling, diving, hiking, horseback riding, biking, and 4-wheel drive touring.
The provinces of Alajuela and Heredia offer a chance to get up close and personal with Costa Rica's cloud forests. Known for their coffee plantations, the forests usually stay covered by a cool, foggy cloud cover that makes them ideal for growing the beans. Head to Monteverde, a private reserve that offers guides and resources as well as maintained trail access into the forest. The damp climate means fewer people tend to visit the area, so you may enjoy the trail without seeing anyone else.
For a taste of the country's rainforest, head to Corcovado National Park. For the ultimate rainforest experience, try backpacking through the park as it takes you through old-growth forests. You may spot some of the forest's unique inhabitants, including harpy eagles, red-backed squirrel monkeys, tapirs and jaguars. To cool off, visit some of the park's 23 miles of coastline, where you'll find both solitude and swimming areas.
What about beginner surfing in Costa Rica?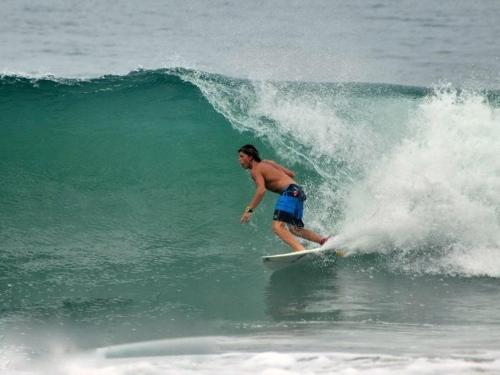 We're glad you asked! Playa Carmen in Santa Teresa/Mal País is highly recommended by both novices and experts alike. Tamarindo is nice too!!! We recommend our area not just for the waves, but the whole vibe is great – relaxed and beachy. You definitely won't feel like a tourist here, as Ticos (Costa Rican natives) are only too happy to welcome you as one of their own.
If you've never tried surfing or are an intermediate surfer who just wants to get better, then we can help guide you in the right direction once you get into town. Trust us, once you're here, it will seem like everyone surfs, and you'll have no trouble finding surf training and coaching from certified instructors, guaranteed to get you riding those waves during the week. There are also surf camps that offers daily surf lessons where instructors will help you advance quicker by getting you on the right waves, improving your surf technique and taking you to the right spots. There is no stopping you from surfing all day, every day!
What is the best city to visit in Costa Rica?
All of the major cities are in the Central Part of the country far from the beaches, but San Jose is the largest, as well as the transportation hub. Since you'll be flying in there anyway, why not check things out for a bit before you head out? There's great night life and history, but don't forget, you can get great night life in Manuel Antonio, Jaco and Tamarindo too. Additionally, you can also visit the smaller towns of Limon and Liberia, though your best bet is San Jose itself.
What is the best part of Costa Rica to visit?
The best thing about Costa Rica is that you can travel in just hours from the Atlantic to the Pacific. Our beautiful country offers rainforests, nature preserves, volcanoes and of course, gorgeous beaches. And if you want to go to the beach, we definitely want you to visit us in Mal País on the Nicoya Peninsula. Here you will find endless recreational activities like surfing, horseback riding, biking, canopy, kayak, bird watching, and more. If you want to do some shopping, you can go to Tamarindo or Liberia, where you'll find many souvenir and gifts shops from local artists.